Commissions are: OPEN (October Slots)

CURRENT LIST
You can find my Trello board here for expected due date of your commission.
Click to go to product listings: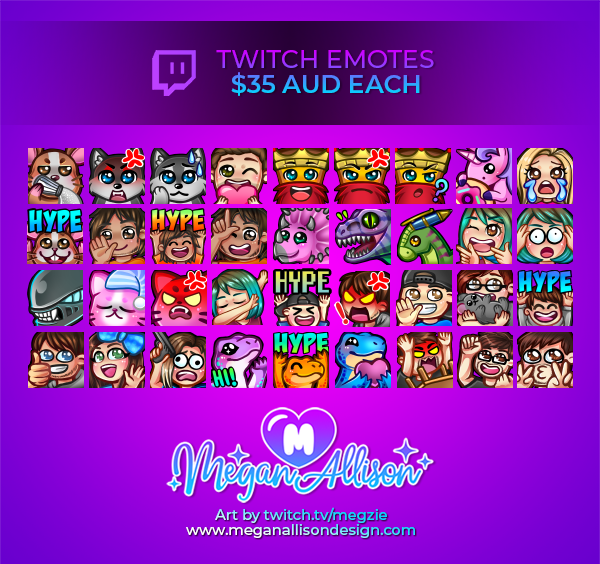 GENERAL
Turnaround time is between 7 - 14 days, depending on how large your order is. I have increased lead times to allow myself a chance to work on other projects in between Commissions. I just want to ensure this is as clear as possible to the client that I do not want to rush any Commissions, and that I do not take rush orders.
All payment is completed via this website, unless I otherwise offer Paypal invoice, use the product listing/s above to process your order and payment.
Checkout is processed in AUD, pricing shown on website are approximate currency conversion for preview purposes only. Use the drop down menu to change the preview currency.
I will accept any revisions (within reason), however revisions that require me to redraw the emote will result in the additional cost of a separate emote.
I am open for one-off commissions and contracted work unrelated to Twitch Assets. My standard rate is $30 AUD per hour, but can provide a quote on request for your project. To request a custom commission, please send me a message with your details.
I reserve the right to refuse your commission​

All commissioned pieces are for your own personal, non-commercial use only.

You may not use any artwork for commercial use (ex. t-shirts, mugs, stickers, etc.)

Please do not copy, trace, redistribute or use my, or any other artists' work without permission.

Commissions are non-refundable, and prices are non-negotiable.

By commissioning me, you are agreeing to all the terms listed.